Selected as Asia's Trusted Leader 2021-22 by WCRCLEADERS ASIA, Naresh Kumar Dinodiya of PL Global Impex has proudly made the company a global force that revolves around the core idea of "Bringing the World Together"
In conversation with Naresh Kumar Dinodiya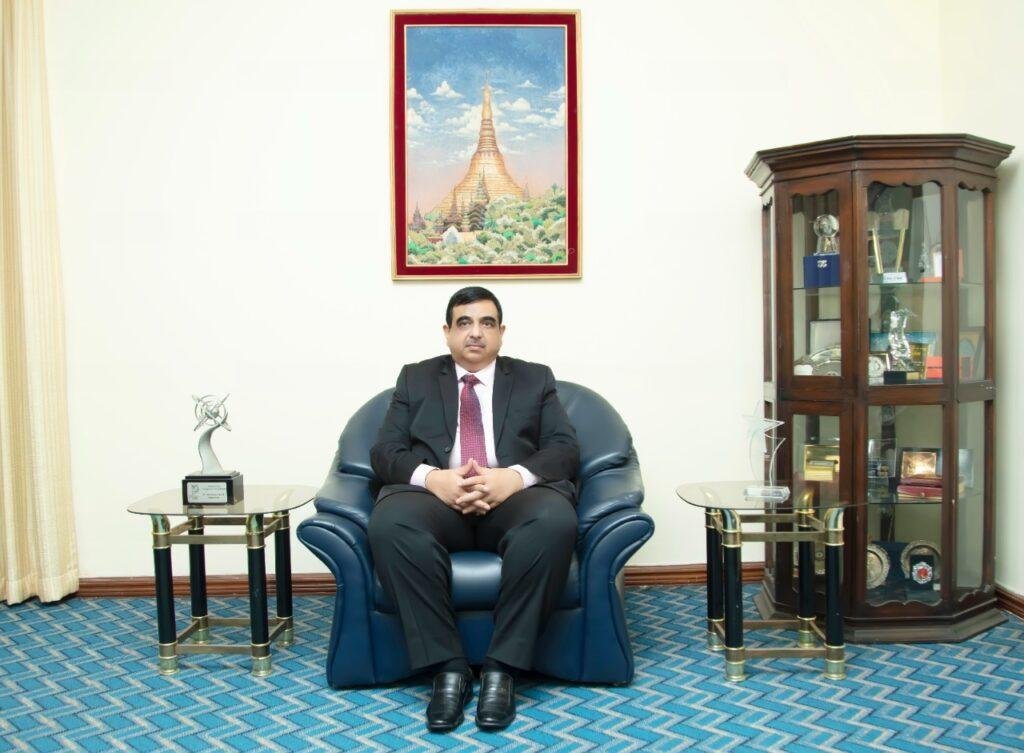 What makes a Strong leader? What are your key leadership strengths that make the strongest attributes of success?
The strong leader must have confidence in his decisions and actions. He should be able to certainly inspire others and must be a role model for his followers. People should have desire to follow him and he should lead from the front.
Key Leadership strengths are making the strongest attributes to my success with the strong support of my valuable team. The key strengths are honesty & integrity, good communication skills, excellent innovator with creative attitude, prompt decision making, quality risk management attitude in uncertain business environment, lead the large professional team with confidence and inspiration, capability to motivate the team under tough conditions and confidence to explore new business markets with insight & business acumen.
An accomplishment that you consider to be the most significant in your career? What challenges did you face to reach to the success?
To be honest my most significant accomplishment is my personal transformation to build my habit to have highly strong business commitments in domestic and international markets.
The following challenges were faced by me, Uncertainty, volatility & high risk while exploring new international markets, bringing new products to different markets of the world, understanding compliance and different statutory guidelines of different Countries with various language barriers. HR challenges in different countries.
However, we strongly believe that the success is driven by our mindset. With discipline and focus one can ensure that any obstacle / challenge can never hold you back from reaching your full potential.
What is a role of leader in these challenging times? List 5 in order of priority?
We feel the role of a leader during challenging times is to inspire people to do their best, lead the team from the front and set an example with his confidence, empathy, resilience, balance mindset, strong communication, transparency and keep learning attitude.
inspire the team to do their best
Strong communication
Balance mindset
Confidence
Transparency
What is your vision and how do you share that with your shareholders, employees and others?
-To create a good working environment for everyone and a place where people are treated with dignity and respect
-To remember and act on our individual responsibilities towards our planet and our community.
To uphold and develop a diverse yet reputable portfolio of businesses globally.
To always deliver with decisive and reliable execution and to constantly drive forward at a sustainable rate.
To create a win -win environment where growth and profit are maintained for everyone involved and highly efficient usage of resources is maintained.
We communicate effectively our clear vision, a core set of values with a concise communication strategy aimed at all key stakeholders. We keep it visible, get everyone on board, value employee engagement, use a variety of channels and share our success stories. We also review our values and vision regularly from time to time and evaluated to ensure they are still relevant.
How do you drive active business renovations and how does that impact your subordinates?
We are definitely driving our business renovations in highly effective manner. We keep on reinventing ourselves to appeal to our customers. We also learn how our customers 'needs are evolving so we can determine in what direction to take our innovations. We try our innovations and new products attract our customers.
Business renovations definitely make an impact on our employees in a very positive way because of our professional handling in a meaningful way. Alongside business renovations we keep on motivating people at work. We also actively involve them in business renovations to feel them respected, cared about and recognized by the management. We take pride in working as strong team.
How do you integrate corporate philanthropy or corporate social responsibility as a part of your business strategies?
We do integrate CSR activities as a part of our business strategies. As a policy matter, we feel that CSR activities improves customer attraction and loyalty, reputation and overall community image. It also gives opportunities to serve and support the less fortunate and society at large. We create many activities promoting the welfare of others through charitable donations or activities direct beneficial to society. CSR gives a greater meaning to our company.
When our group companies build itself around a great mission of doing good, we infuse that passion into our products, services, employees, customers and shareholders. This passion eventually begins to manifest itself in the work of our employees and managers, providing a great sense of purpose that actually drives innovation and creativity and, in turn, leads to business growth.
What has been your driving force or philosophy in life?
I feel passion is an incredible driving force that motivates me in my daily efforts to take forward and excel. In my view this is very essential because it is impossible to achieve high goals in life without daily constant efforts. Passion helps me to be constant in my efforts. Without this consistency, one will not succeed.
Passion to excel in my business arena helps to handle day to day challenges and this compels me to grow every day. This is my simple driving force that keeps me engaged, excited and energized.
How do you plan to drive your business at a global level?
In fact, driving business at a global level is a complex and dynamic process. We have core competence in expanding our business in different markets of the world. We gain a deep understanding by enhanced due diligence of the targeted markets, the competition, current local market trends and requirements to successfully launch and drive growth.
I feel to drive business at a global level the following steps are very essential
To perform enhanced due diligence
Develop a strategy and business plan
Establish the right senior management team
Competitive product readiness to launch
Organizational readiness to accept cultural differences, Language, compliance of regulatory guidelines, policies to attract best local talent and establish best human resource functions.
How do you define success and how do you measure up to your own definition?
Success is part of something bigger, helping any person or organization to meet worthy goals, to bring some value to the world.
Success is being able to do your best everyday in all roles you have in life, whether it is a role of a Managing Director, Owner, employee or of a son or a father. The best efforts being conducted every day on all steps bring happiness, satisfaction, sense of security, health and love.
Over the years, my definition of success has evolved to be more encompassing than just material acquisitions. I enjoy what I do every day and have this sense of purpose that guides me through it.
In your opinion what is the most significant aspect of leadership?
Motivation. Motivating team members, inspiring, mentoring and fostering enthusiasm for projects is one of the most important leadership qualities and a key to success because only motivated employees are good team members. The other important aspects of a good leader are an excellent coach, mentor, transparent and persistent, insistent communicator.
I also feel that a leader is expected to demonstrate multi-dimensional traits such as a commanding presence, vision and foresight, intelligence, communication skills, sense of responsibility, humility and Empathy.
Your perception of an empowered society. How far your industry has / can contribute for the same?
My perception of an empowered society is, empowering people with little resources through education, employment, health services, and giving them a sense of identity and community in which they can thrive and grow.
Our industry has already been contributing towards society empowerment by creating employment in various countries. Our group is organizing many such activities through many organizations for arranging the health services, education and supporting the less fortunate to create employment and thrive. We believe in long term solutions, designed for those members of society, which can strengthen this resilience and be a pathway of transformational and lifelong opportunity for them.
Esprit de corps: How do bring fairies and equality to all?
We lead the group to create among members an effective ethical awareness, devotion, loyalty, inspiring enthusiasm and strong regard for the honor of the group.
We have created many policies and develop a strong culture in our organisation to have gender equality, treating everyone fairly, no racial bias, promotions on strictly merit basis. We at our group committed to fully achieve and delivering on diversity, gender equality and inclusion. We do recognise the value of inclusion and diversity in culture.