Selected as India's Inspirational Leaders 2021-2022, Vaibhav Sharma of Carzso is creating exceptional value through his pre-owned automotive buying and selling experience.
In conversation with Vaibhav Sharma, Founder, Carzso
Years of working in the industry, your contribution reflects versatility and volubility. What has influenced your decision making process at various stages?
Being finance graduate by default most of my decisions ref the companies I have worked in past or currently are linked to the P&L sheet of the organizations. However, few are taken as part of the big plan for expansion.
Being trained on "The 7 Habits of Highly Effective People" I am subconsciously trained to apply below habits for every decision making process:
Being proactive
Putting first things first
Beginning with an end in mind
Working on my circle of influence
A project or an accomplishment that you consider to be the most significant in your career?
I have always tried to plan in advance and believe to be on a career high point working on an "Exponential Growth Curve", especially post becoming a father in September 2021.
I am blessed to have achieved many milestones so far. However, I still feel my biggest has been setting up CarzSo as this is a ground breaking solution to make the use of technology for making cars accessible without physical and geographical boundaries. It involves minimalistic of human contact looking into the need of the hour. Yet offers a win –win situation for all stake holders.
How do you integrate corporate philanthropy or corporate social responsibility as a part of your business strategies?
A start-up like us is engaged in CSR for the personal conviction of founders and that is the case with us, as I feel this isn't a responsibility but a duty that everyone must deliver. I have also driven this initiative in my previous organizations, in the capacity of an employee. I believe if each organization contributes to change their system, the world would be a lot better.
Our business model is also an initiative in this direction, as we support people to save on avoidable travel (by offering a virtual view of cars) which in turn saves fuel, reduces pollution, and keeps them safe in these difficult times of COVID 19. We are also creating jobs and interning young graduates from rural areas, tier 2 & 3 cities so they can work to uplift their family's financial status, support them without having to leave their loved ones. As CarzSo grows with time, we intend to make a formal CSR division as a commitment to the community and plan on a creating SOPs around initiatives aligned to the company's vision and values.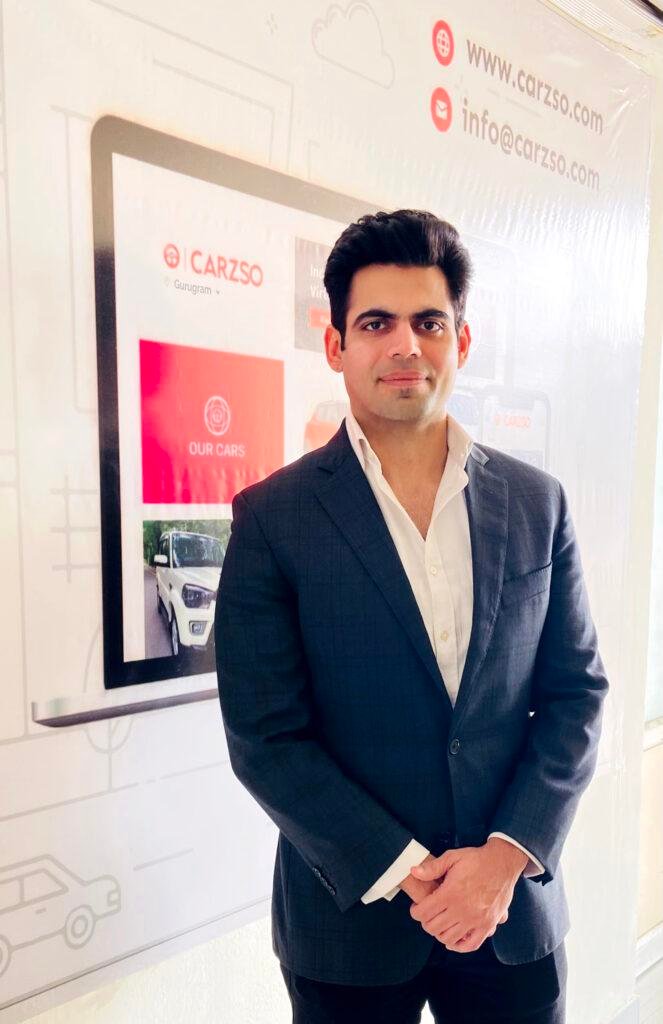 What has been your driving force or philosophy in life?
Being a self-motivator, I am a strong believer and follower of "Think and Grow Rich" "The Power of Your Subconscious Mind" – which has helped me to harness the power of my subconscious mind.
My day begins with a futuristic vision of where I need to be, and I have always tried to plan in advance and believe to be on a career high point working on an "Exponential Growth Curve", especially post becoming a father in September 2021. Below are some key milestones that have helped in my journey so far:
•Started an entrepreneurial venture at an age of 19 years
•Successfully completed Chartered Accountancy at 22 years
•Gained first-hand exposure to US IPO/ listing process and M&A deals at 23 years
•Established my first tech start-up at 25 years – a health tech, it wasn't successful but was a key learning / stepping-stone towards building CarzSo
•Joined INR 1000+ crores Group as CFO at 27 years
•Launched CarzSo (Building a Virtual store for Indian auto industry) at 30 years.
What are the other philanthropic works you are involved in?
Considering my commitments at work while I am not directly involved, but indirectly my wife (on my behalf) has been sharing resources with people in need and engaged with some NGO working for children, supporting their education.
How do you define success and how do you measure up to your own definition?
For any project if I am doing good, feeling good and becoming good then I define it as Success. Being in a service sector delivering a quality product which makes a customer happy lead to a satisfaction in delivering is what I will define as success.
We are constantly making things better, faster, smarter or less expensive. In other words, we strive to do more with less. Tell me about a recent project or solution to a problem that you have made better, faster, smarter or less expensive?
We launched CarzSo with a vision of taking physical auto showrooms to the digital / virtual world and becoming a Virtual retail store for the Indian auto sector, ultimately making the operations better, faster, smarter or less expensive using technology. For which we built our technology based on Virtual reality and is the first one to launch a virtual showroom in India. Thinking way forward we are extensively investing on our tech platform with a futuristic vision of where the industry will be 5 to 8 years down the line.
Using this technology, showcasing the available inventory remotely will become much more convenient and reliable. In a conventional setup, there's a limit to how far the customer is willing to travel to view, shortlist and buy a used car; while the use of VR will make it easier for the customer to view more products in the same amount of time, that too – from the comfort of his home/office. We will aggressively work on building tech that can support Indian customers to view cars virtually irrespective of the location of the car. For now, we will focus on helping customers to narrow down on shortlisted cars for physical test drive. Soon with right branding and technical upgradations we will also plan on selling cars online through virtual showrooms."
In your opinion what is the most significant aspect of leadership?
I am a visionary with a firm belief in technology, being trained on "The 7 Habits of Highly Effective People" I always "begin with an end in mind". Being a Group CFO at an age of 27 to now working on building a Virtual showroom for the Indian auto sector, as a leader my evolution over time has given me the skills to offer solutions that mobilize the team on the ground to be the best in whatever we do.
The uniqueness that I have gathered is best expressed by my team in their identification of me as a team player, motivating them to get the best out of them. Also making them committed/ independent in their work by pushing their limits in a fun to work environment. I prefer to work with almost negligible yet fine defined lines of hierarchy in an organization thus creating congenial work environment for enhanced productivity and at the same time thinking of "win-win" situation for everyone.
PERSONALGRID
One thing you wish to change and one thing you wish to retain about your industry?
Things that should be changed about the industry:
The organized pre-owned car market is the fastest-growing channel in India, and is reaping benefits of the changing customer preferences (partly driven by cannibalization of the consumer-to-consumer and unorganized channels); although small, the organized channel is competitive, compelling players to offer new-age solutions across the physical and digital plane for buyers and sellers. The market is on its way to getting organized driven by rising access to digital listings as well as increasing number of dealerships in the organized and semi-organized channels.
The role of digitization in the pre-owned car transactions has been profound, which is seen in the rapid increase in pre-owned car-related search queries – online used car platforms in India are looking to capitalize on this opportunity by using technology to offer consumers a convenient way of finding used cars across different budget brackets
Things that we would like to retain about the industry:
Rural markets, along with tier 2 and 3 cities are likely to play a critical role in driving business volume in the pre-owned car sector; the availability of multiple options across segments and budgets offers opportunities to people across these segments to own cars, which otherwise seemed difficult, considering the per capita dynamics of Indian economy.
One thing you have to let go off as an entrepreneur /leader?
My emotional bent while it helps me develop relations, retain staff but sometimes I feel exploited too.
Who do you owe your success to?
The inception of the idea "to achieve something exceptional in life" started developing at an age of 10, as I used to attend (sitting at the back) monthly business training seminars organised by my father. The objective of attending those seminars was never to learn but just to sit and assist my father, however hearing those motivational seminars helped building an auto suggestion in my mind which has laid a strong foundation in shaping my personality. Being born in a Tier 2 city – Ambala in Haryana, witnessing all the business progression, I understood much earlier that it is important to work on myself and be my own competition.
Being optimistic throughout my life has helped me to always look forward; this comes from some of the key learnings given by my mother "whatever happens in life is always in your favour and you will just realize that someday"; "anything is achievable with right focus".
Following some of the points highlighted by "Jack Ma" during his interviews, my life has progressed from staying an average student to joining an average company (not a big process driven company), which helped me learn / evolve as a professional during my 20s, and now I am determined to make it big and write my own success story as an entrepreneur.
With continuous support from my family and friends, the journey has been both exciting and difficult at the same time. My firm focus/ burning desire to grow and acquire more knowledge along with solution-oriented approach led me to the position where I am today.
Best thing about your job?
The opportunity available in the industry from extensively working on improving our online platform, by adding multiple features to enhance the customer experience for online car sales, while also boosting the Virtual pre-owned car showroom experience. We are further working on amping up our overall technology to support the future of auto retail. We also plan on patenting our innovations in this space.
As a long-term growth plan, we plan to diversify into new cars and EV two wheelers (in India to begin with). With growing demand from the auto finance industry, we also plan on launching our own NBFC (under our fintech platform MeriEMI.com) offering finance solutions for the cars sold through our virtual platform.
A message from you to all the future entrepreneurs/ leaders?
The most important learning for younger professionals would be "knowing what they want to achieve; by when and how". Anyone who is going after learning and experience in life can never fail.
I would suggest young professionals to have a clear vision and work hard always believing that they will achieve their targets.